Communications/60 Control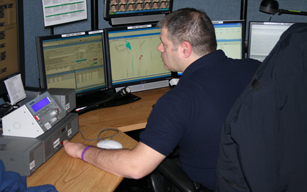 Emergency Communications Center (ECC) staff members are trained to calm distressed callers, obtain critical dispatch information and, if needed, provide pre-arrival medical instructions. The ECC operators are certified in emergency medical dispatch by the National Academies of Emergency Dispatchers. This nationally recognized program is designed to teach communication operators how to best obtain critical information and coach the callers in providing immediate assistance if required.
In the event of an emergency callers can reach the ECC by calling (914) 231-1900.
If your situtaion is not an emergency and you require the assitance of the ECC you can call (914) 231-1905 or (914) 231-1848 (fax).
The ECC utilizes state of the art technology including a robust Geographic Information System (GIS) based Computer Aided Dispatch (CAD) system provided by Intergraph Public Safety. The ECC utilizes multiple telephone and emergency radio systems to communicate with the fire, EMS, police and emergency management agencies. Direct communication is maintained with the 911 receiving hosptials to coordinate major responses and with the contiguous counties surrounding Westchester to coordinate mutual aid resources.
The ECC is supported by the Computer Aided Dispatch (CAD) team that provides the "behind the scenes" programming and support that is critical in obtaining address specific information and agency repsonses. The team includes a dedicated quality assurance program that is designed to provide feedback and coaching to ECC team members on a ongoing basis. Policies and procedures are continuously being updated to address the ever changing needs of our customers.
The ECC team also staffs the Mobile Field Communications Unit that can be dispatched to the scene of a large multi-agency event. This unit is equipped with mobile technology that brings the dispatch center to the scene of an incident. Services include broadband satellite connectivity, multiple radio systems, streaming video and conferencing capability. The unit can also patch dissimilar radio systems together to allow responders to safely communicate action plans and better manage resources. The Mobile Field Communications Unit is used on a regular basis to support communication needs during large fires, mass gatherings and during training exercises.